HISTORY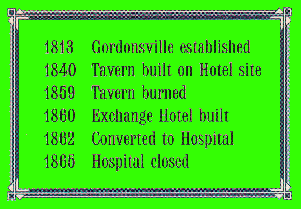 In 1860 Gordonsville's
Exchange Hotel offered a welcome stopping place for weary passengers on the Virginia Central Railway. Waist-coated gentlemen and hoop-skirted ladies were treated to the sight of the hotel's handsome architecture of wide verandas and stately columns. Inside, guests received a warm greeting and gracious hospitality that was the hallmark of the South, but the leisurely pace of life belied a worsening political situation that would soon become the War Between the States.
The verdant farmlands of central Virginia became a vast battleground. In March of 1862, the Army of the Confederacy transformed the Exchange Hotel into the Gordonsville Receiving Hospital. The wounded and dying from nearby battlefields such as Cedar Mountain, Chancellorsville, Trevilian Station, Mine Run, Brandy Station, and Wilderness were brought by the train loads.
Although this was primarily a Confederate facility, the hospital treated the wounded from both sides. 26 Union soldiers died here. The year of 1864 proved to be very busy with 23,000 treated and in June alone 6,000 treated. By war's end over 70,000 men had been treated at the Gordonsville Receiving Hospital and just over 700 would be buried on its surrounding grounds. (we have their names, See "THE LISTS")
By 1865, the Exchange Hotel had been reduced to a shadow of its former self, but the hotel flourished once again as Virginia and the United States healed, until the railroads by-passed Gordonsville, returning it to the quiet rural community of today.
In 1971, concerned citizens formed Historic Gordonsville, Inc., and rescued the Exchange Hotel from near ruin, restoring it to the historic grandeur befitting its unique past.
Today, the Exchange Hotel stands silent watch over a rich past that intertwines Civil War medicine, military actions of the Army of Northern Virginia, and the mighty railroads of Virginia. Visit this unique building and experience Gordonsville's personal history through medical, military, town, and hotel exhibits.